This is not something that I really want to do. I have spent time in prayer and thought about doing this before beginning. By doing this I stand to lose friends.  By doing this I know I will be opening myself up to critical remarks and outrage (hopefully putting that will diffuse some of it lest I claim to be a prophet like our person in question here).  I worry about how this will come off and be received, but following a seminar I attended Saturday I feel that this is a way to stand up for Truth and the restoration of New Testament Christianity. Yet, that is not my sole purpose for doing this.
The main reason I am doing this is because souls are at risk. Some of these souls belong to people I love from my youth (you know who you are). I can no longer in good conscience not try to say something or point to truth that will hopefully open the eyes of a group of people who are slowly being ravaged by a wolf in sheep's clothing. 
I hesitate to even call Damon Thompson, a current charismatic teacher and self-proclaimed prophet, a wolf in sheep's clothing because he pretty much revels in his unconventional appearance. Tattooed and until recently, dreadlocked, he is much more a wolf in tiger's clothing. That is not the issue at hand though.
Damon Thompson, false teacher, is one of the main teachers at a place called The Ramp in Hamilton, AL.  Under the puppetry of Karen Wheaton  Towe and an outfit out of Mobile, AL, Damon Thompson's popularity and fame is spreading throughout the Christian landscape.  With his slick style of speaking and his southern drawl, he is indeed alluring and a captivating speaker (think Bill Clinton without the whining).  His care free attitude and rebellious nature is often on display in his speaking and that of course is very alluring to his main audience, teenagers and 20-something's.  Like bait in a trap, his words, method, and charm draw them in as he speaks of his  personal revelations with the Holy Spirit or his thoughts about what God has in store for their "generation," none of which are in scripture.  He will often drift off into speaking in tongues (with no one to translate) or begin to breathe heavily as he pretends that he has some special feeling.  All these things are great but have a purpose.  The purpose is to point away from the fact that this man, Damon Thompson, false-teacher, has no idea what he is talking about and his Biblical teaching is so false that it should make any Christian who has the word truly written on their heart weep.
As I stated above, there are souls on the line here.  I see person after person flock to this MAN (he's just a man, despite what he wants you to believe) and they lap up his word like a lost puppy who finds a home that will take them in laps up the love that family will give.  I say enough and I am taking it upon myself to expose the Biblical lies and heresy that this apostate is teaching.  I hope that some will follow and will join me in exposing this false teacher, this supposed prophet, this speaker of lies and deception.  Luckily, he has provided us just the right avenue for such.
It seems that The Ramp, Wheaton/Towe, and Mr. Thompson think that their message is good enough and important enough to podcast.  Well, if they are going to offer that avenue to expose themselves, I will take the opportunity to point out the flaws and you can easily find them and listen to them yourself to see who is right.  As long as they post them, I will discern them in the hope that someone who has been sucked in by this false teacher and his cronies will see that what this man teaches does not align with scripture.  Remember, that is our authority, that is our truth.  Note that I do not want to be accused of taking anything the false teacher says out of context so I will give the time frame of the podcast that I am discussing so that you can go back and check (assuming they will leave them up) and hear that what I am saying comes from his mouth.  One podcast may be broken into several different postings because there is so much nonsense that needs to be addressed.  I know the podcast in question starting with this post will, as just the first fifteen minutes contain so many lies and deceptions that I honestly dread trying to discuss them all.  I hope you will listen to the podcast though and read along, comparing what I and the word of God are saying, to the apostasy that this false teacher is espousing.
We'll begin this exercise with the most recently provided podcast.  This one is from January 27, 2010 and what I suppose is their normal Wednesday night service.  The podcast and speech is entitled "Secret Mountain of God's Presence."  The podcast only contains the one hour-long message from Damon Thompson so what went on before or after is a mystery to me.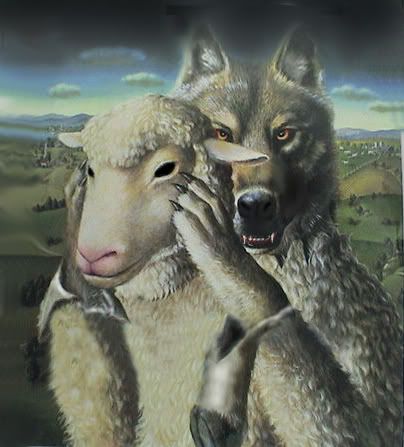 Here we go:
00:01 – 04:30

:  Damon begins his message by exhorting those who are listening to want to become faith healers.  He says that he has received "revelation" that he wants to see blind people see, but not in the sense that the spiritually blind be made to see the truth that only the gospel brings, but he wants himself and his disciples (can I call them that?) to actually begin healing people.  This is a topic he returns to many times.  He then touts about his first gospel meeting and how through his "marking" people were being healed (note, he says this without actually saying it.)  Damon, supposing you read this, can you please put us in contact with those people who were healed so that we don't just have to take your word for it?  I've never seen you, or anyone for that matter, heal the lame, blind, deaf, or wheelchair bound.  Sorry, because of your teaching and arrogance though, I can't just take your word for it.  Is this why you prey on gullible youth?

04:31 – 04:38

:  HUGE ERROR – He says that classic theologians do not consider the book of John to be a gospel.  WHO????  Who are these classic theologians?  What a lie that is.  What is a gospel?  The good news of Jesus Christ.  Sir, Damon, of the four gospels, none contain more Christology, good news, record of Christ's life and death, than the book of John.  You say that John is not a historical account but a "revelation," yet what sets John apart from the synoptic gospels is that it contains so much more detail, eyewitness detail, than the other three books.  Perhaps the reason you want to take away from the book of John though is because John is what's known as the new convert gospel, the one that if you really want to teach someone about Christ, you turn there.  Of all the gospels, John can so quickly and easily debunk all pagan philosophy and mysticism with Christology that you are left with nothing to teach or believe but Jesus on the cross.  Perhaps you do this because in your sermon you are leading up to teaching mysticism (it's coming).  I see what you are doing because you are certainly not teaching Christ.  If you can convince your audience that the great book of John was given by "revelation," the more likely you will be able to convince them that your "revelations" are true.  Sneaky, sneaky.  You are purposely taking away from the authority of scripture by saying that the book of John is not a historical record.  That is one of the central beliefs of Christians that yes, Matthew, Mark, and John are indeed EYEWITNESS (historical) accounts and that Luke was written from interviewing eyewitnesses.  Is John's book of Revelation a revelation given to John, yes, and oddly enough, it is so entitled.  The gospel of John, although surely inspired by the Holy Spirit as is all scripture, is not a "revelation" though.  It IS a historical account written after the other books, almost a filling in the blanks, if you will.  To further prove that John was giving a historical account, one needs look no further than 1 John 1, where John is reminding the church of what he and the apostles taught them.  It is the same as what John 1, your proof text, says except he adds some things that prove they were real accountings.  I will allow the text to speak for itself.
1 John 1:1

that which we have heard
that which we have seen with our eyes
that which we have touched with our hands (can you touch a "revelation" with your hands?)

1 John 1:3

that which we have seen
and heard
04:38 – 05:00

:  Five minutes in and my jaw dropped when hearing the statement that Damon Thompson makes next.  Building off of his now proven false assumption that the book of John is not a gospel but a "revelation". he says the following: "He (John) gives us the basis for the theological idea that God is not monotheistic.  He gives us the trinity in a verse."  HOW DANGEROUS A STATEMENT IS THAT?  The very basis of Christianity is that God is ONE.  This statement made by this false prophet Damon Thompson is the epitome of current emergent and post-modern thought and fuels the trend of believing that all will go to heaven (or at least you preach in churches that teach that don't you Damon, more on that to come).  This is fueling a trend that we saw Israel suffer when they stopped worshipping One God and began their pagan worship.  Yet, the Bible stands in direct opposition to what you just said Damon Thompson.  To quote Dave Miller of Apologetics Press:
"The Bible repeatedly and frequently affirms the doctrine of monotheism and the unity of God: Deuteronomy 4:35,39; 6:4; Isaiah 43:10-11; 44:6,8; 45:5; 46:9; Mark 12:29; Romans 3:30; 1 Corinthians 8:4,6; 1 Timothy 2:5. These and many other passages indicate "there is but one infinite Spirit Being, and that within that one Spirit essence there are three personal distinctions, each of which may be, and is, called God" (Lanier, 1974, p. 46). There is only one divine essence (ousia) or nature (phusis)—a solidaric unity—one divine substance in (not and) three persons (prosopa or persona), with each "person" being the subsistence (hupostaseis) of the divine Essence"
Five minutes reader.  Five minutes into his "sermon" and Damon Thompson has already exposed himself as a false teacher who has no business attempting to teach others, much less impressionable young minds, the first thing about being a Christian.  That is all for the review of this sermon group session today.  I literally grow weary and sick listening to this and the amount of Christian and scriptural evidence piled against what this man teaches is mountainous.  I will continue and complete the discernment of this lesson in future posts and then we will move on to other speeches given by Damon Thompson.
Please note that before posting this, I have tried to contact Damon Thompson for comment.  He is very insulated though, which strangely enough is the exact opposite of many of the great true Christian authors and speakers of this day.  Just this morning I was on the phone with Tom Holland, who knows me from Adam.  Yet, he took my call, was easily reachable, and had no need for insulation.  I wonder why the difference?  I am making him aware of this and should he want to contact me, he has my information.  My hope is that he will come to repentance for this heresy he is spreading and will step down as a gospel teacher.  While none are perfect, few of us are reaping the monetary gain and infamy that would encourage one to continue in their sins as Damon Thompson is.  I pray that he will look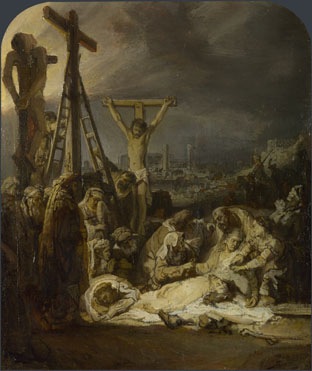 to the cross for his forgiveness as do I each day of my imperfect life.
In conclusion, let me repeat what I said at first.  I know those of you who are his disciples will bash and rail against this.  Therefore save it.  Just accept it for what it is and the postings to come are.  The Truth.  Look at what you are being taught.  I know the human condition and I realize this will anger some of you.  I am sorry if it does but if the truth and exposure against false teaching causes you anger, don't look inward, don't look to me, don't look to Damon Thompson, look toward the cross and the truth revealed in scripture.  My hope is that this makes you so dissatisfied with what you have been fed that you will look to other pastures in which the truth of Christ, His cross, His resurrection, and His coming again are properly taught in place of some man's fanciful ideas about the world he, not God, wants.